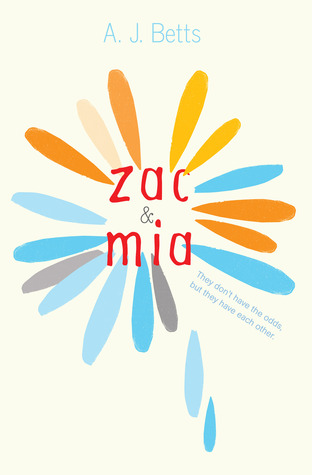 Zac & Mia by A.J. Betts
At first I wasn't sure if this would be a novel for me. The Young Adult tag always throws me because, as a person who is swiftly approaching her forties I don't identify myself as a young adult reader. I found this to be a novel anyone would enjoy. I often find that to be the case with titles that claim to be Young Adult books. I don't know why I fool myself into thinking I am too old to read them. I wish they would change the YA moniker to UA for Universally Appealing.
Zac & Mia
by A.J. Betts is definitely a UA novel.
If you like books about relationships - friendships and family bonds, and if you like good writing you'll enjoy this book.
Zac is a young man about to undergo a bone marrow transplant when we meet him. He is in an isolation ward and is trying to pass the time with his mother and the nurses on his floor as his only distractions. Mia is a young lady who bursts into Zac's life in a loud and impressive way, blasting Lady Gaga through the thin walls of the Cancer ward and interrupting Zac's pattern, inserting herself into his world without ever actually entering it. The two start a hesitant relationship, misunderstanding each other and just barely breaking through each other's metaphorical walls to start a long-distance friendship although they have only a wall dividing them. As they leave the hospital behind and travel into the real world they reach out to each other in an unexpected way and become vital parts of the other person's healing and view of the world.
I really enjoyed Zac and found him to be admirably strong in the face of his disease. I also enjoyed the development of the character of his sister and her role in his world. I had a very hard time liking Mia who I felt was incredibly selfish and immature. Mia's mother doesn't appear in a significant way until three quarters into the novel, and when you find out more about her Mom and their relationship you also get a better sense of Mia. She isn't always a likable character and I found her very challenging because I see a lot of myself in her stubborn attitude and ungratefulness. I wish I was more like Zac, but my identification with Mia, often repeating "I was exactly like that as a teenager" whenever she would do something less than flattering is what makes me really recommend this book. I love books where the relationships you as a reader build with the characters reveal something about yourself. Unfortunately I found that in my youth I was kind of a brat, but when we have a revelation about a character that feels very true and we can identify with it in such a strong way, that's a very good thing.
I won't spoil the plot for any of you. Some good stuff happens. Some bad stuff does too. There are some very humorous moments and some tear jerking ones. Zac and Mia's journey through the book together is a touching and fast paced story that you could probably read in a few sittings.
There were two tiny things that I hope may have changed from the Advanced Reading Copy I received before the publication date which is quickly approaching. There were a few references to distinctly Australian cultural details which I had a bit of a hard time figuring out. At one point they reference something called a "show bag" which is a purchase they make at a fair. I don't have any idea what that is, and hunting for it on Google wasn't a help. I am thinking it is something like a grab bag where you take a chance on the surprise inside. I sort of hope in the American edition it might be explained a bit better, although it is just my lack of knowledge that made it stick out. Also there is a brief reference when a character is on a trip and they claim they "just saw Robin Williams eating a bagel." I was really struck by this phrase as I read it just after his death. The statement has to be believed because it is important to the story, so I really hope that they are able to change it. It jarringly removed me from the novel and tossed me back into the reality where I was deeply saddened by Robin Williams' passing.
Just a note: Many have compared this book to John Greene's
The Fault in Our Stars
which is also a young adult novel and as I understand also features teens with cancer. I haven't read
TFIOS
. I don't understand the overwhelming number of shirts that say "Okay? Okay." in word bubbles that seem to be on every teenage girl at the high school down the street from me. What I do understand is that there are often books, movies and tv shows of similar subject matter that seem to hit the media centers at the same time. That never takes away the enjoyment of them in their own right for me and the reviews that say things like "watch this movie instead! That movie is exactly the same and this one is better!" don't help anybody. If they were "exactly the same" there would be a whole bunch of copyright lawsuits going on I imagine! Most importantly if you liked one of the books/movies etc. and there is another viewpoint out there with a similar idea you just might like the other one too.
You can read an excerpt of this book on
Goodreads
. There is also a giveaway for copies of the book that ends on the 9th of September on the site. While there, you can
read about the author
and also order a copy from
Amazon
or other retailers. I was fortunate to receive my copy as an advanced reader's uncorrected proof. I found the offer on the
Shelf Awareness
site. It is a wonderful resource for news about new books and all things bookish!
Happy reading!