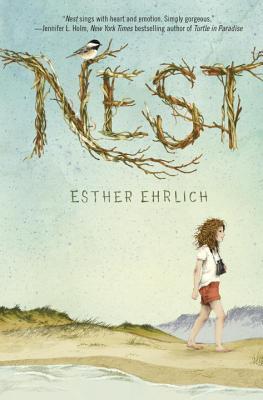 I was blessed to read this book through the Net Galley program. I will definitely be picking up a physical copy, and will gift it to children in my life in the years to come too.
When I first saw
Nest
by Esther Ehrlich, I was struck by the artwork on the cover. The interwoven branches were beautiful and although I hadn't read the copy, I found it inviting. When I saw the words "Middle Grade" attached to this book I wasn't sure what to expect. Some of my favorite books have been aimed at a young audience. Stories that I have grown attached to and carried with me into adulthood were meant for this age group, so I took a chance and jumped in without worry or care that this book wasn't written for a person my age. I am tremendously glad I did.
Nest
is a story that spoke to me. Honestly, it didn't speak, it
sang
. It's a coming of age story about a young Jewish girl with the nickname Chirp. She and her newly teenage sister Rachel navigate the waters of growing up in Cape Cod circa 1972. Their mother is diagnosed with a serious illness early in the book and Chirp deals with the emotional toll this takes on her family better than most children her age might. With the help of Joey, a neighbor across the street who is an unexpected provider of support and friendship, she explores the beauty of life, the importance of your family and her own independent nature.
So many of Chirp's experiences were things that I recalled from my own childhood. Ester Ehrlich had done an incredible job capturing the period. From descriptions of the Danskin tops and corduroy play clothes the girls wear, to Chirp's description of the cover of the "Whipped Cream and Other Delights" album from Herb Alpert and his Tijuana Brass, not a thing was out of place.
I could smell and taste my own childhood in this book over and over again. The lavender and lemons scent her mother wore was a constant aroma in my grandmother's house. The dances Chirp and her sister choreograph in the street puddles were the elaborate and often narrated routines my best friend and I dreamed up on our sidewalk, hoping beyond hope the neighbors would come out to cheer and applaud our brilliance. My father used to drive miles to take us to the nearest Howard Johnson's to celebrate our achievements. When we saw the orange roof swing into view through the window of our faded lemon yellow Datsun we knew that our glory would be praised with a clam boat dinner. When Chirp saved clam strips to make her mother smile, I cried tears of nostalgia, and my heart broke for this little girl who was shoved into a grown up situation neither she nor the people around her could help fix.
The story is moving in ways that felt intensely personal and yet relatable to any reader. Even if you've never read
From the Mixed-up Files of Mrs. Basil E. Frankweiler
or sung the HAIR score from the top of your lungs while throwing up peace signs, this book will immerse you in Chirp's world and in the very special place she carved in it.
The language of the book is beautiful. You can see the birds Chirp is so fond of and their salt marsh home as easily as you can envision the kitchen where the heavily salted popcorn is being popped. The glass house and it's sun-sparkling floor of anger laden shards and the neglected lemon meringue pie lying so hopefully on the table are so vividly written, your mouth waters and you can hear the glass crunch under Joey's feet. The description of the swan boats in Boston and their dark haired, handsome driver are like a postcard from another time. I would love to read more from this author in the future, and I hope that readers of all ages will fall in love with the journey this book takes you on, and the homey warmth and comfort of
Nest
. I wouldn't hesitate to recommend it to any reader, but think preteen girls could capture this novel in their heart and have it help them through their in-between years of growing up.